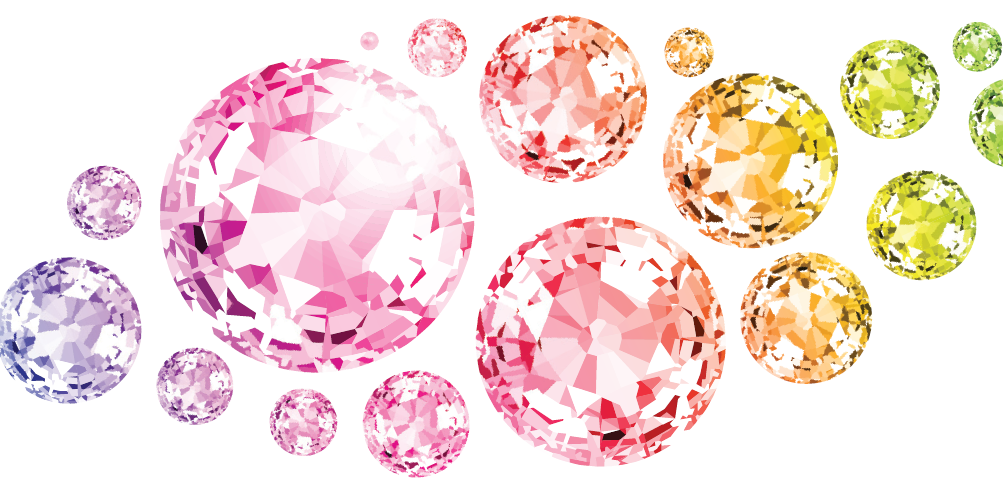 Have you ever wondered how some women have it all?
Would you like clarity and direction in your life?
Can you even remember the last time you did something just for you?
If you are like many women you may be asking yourself 'How did I get here?!' You're feeling run down and as if the world is heavy on your shoulders. You're even thinking that you don't quite know what went wrong along the way. Worst of all are you feeling like you just don't belong?
Who you are meant to be is busting to get out! Believe me - you can find her! When you live in your heart, you live in a state of flow with everything!
When you get through this page you'll feel like you have a kindred spirit and that you can possess the remote control that changes everything from this point on to have that happier and more fulfilling life, sparkling and shining from the inside and feeling re-connected with the real you.
No matter how little time you have for YOU
No matter how much privacy you may have
No matter if there are screaming children or demanding jobs or partners in your life
No matter how physically and mentally exhausted you feel right now
Don't worry, I'm no super-coach that is out of touch with the real world. Believe me, I've lived everything you are experiencing right now. I've seen it and done it, but now feel like I have it all! I live a truly blessed life and the best thing of all is that I know it is available to everyone, if only they knew how.
I'm so certain that I can help others that I'm sharing this with you today because I believe this with all my heart. I also figure what goes around comes around, so I'm sharing this with you without obligation. My mentor says it's too much value for such a low price, and is trying to make me take this down, but I care that you find your way out and know that those feelings you want are available to you and within arms reach.
Find Your Bling is all about helping you to feel so unbelievably connected on the inside you will shine on the outside.
By the end of my note to you here you will create some real change that will make a difference in your life! So, stick with me . . .
If you don't need any more convincing that you can find the peace you are looking for then jump straight to my 21 Day Bling Blast online course.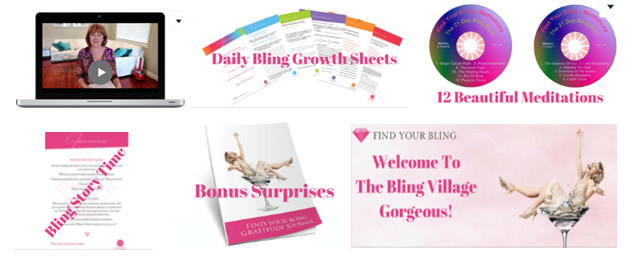 If you're skeptical then please let me assure you I'm talking about genuine transformation here. I'm speaking from experience so I know that it really IS possible. If I can share my own journey with you and the secrets I uncovered along the way, I can show you the way out too. I was once skeptical too and in fact I would say that I was very closed off, and of course all I had in my life was stresses, drama, overwhelm, feeling drained, being unwell, being taken advantage of, and full of loss. If only I knew that there was a little switch inside my heart that was enough to start to turn it all around.
I'm all about doing what's right and one thing that is SO IMPORTANT to me is integrity and doing the best I can to help others to make a difference. I'm as down-to-earth as they come - you'll get 'ME', as I am, the real McCoy with warts and all as they say. I'll laugh with you, cry with you perhaps, and most of all be that light at the end of the tunnel showing you there is a way out. I've found myself here now and I want to show you the way so let my long road be your short road!
I'm a big believer that my 'story' about all the difficulties I've endured is best kept put aside now as they really don't define me, and those difficulties certainly don't hold me back from anything; in fact I'd say I've used them to step up to a whole new level of being. It seems a little strange now to even reflect on these when my life is so far from that now. I'm only sharing this with you because I want you to know that I truly GET YOU! If it could go wrong for me in the past, it has!!! Life has always been full . . . full of many twists & turns! Let's face it – while life has not always been ideal, it sure was colourful at times. I read Heal Your Life by Louise Hay in my early thirties, while undergoing my own life's metamorphosis. That's where my journey of personal development began, something I'm very grateful for.

There have been many books that have changed my life, Heal your Life was my bible for many years and I still turn to her insightful words in times of doubt. She inspired me to become a Louise Hay Facilitator and over the past years, I have enjoyed facilitating her wonderful workshops and seeing clients face-to-face. Learning Parapsychology and becoming a master NLP Practitioner opened all the doors to creating the life I wanted but now helps others to feel the same.

As a woman, you have it all and you are it all – it's just a matter of tapping into all your resources and finding your bling – something I'd lost for years. Through a cocktail of modalities (mmmmm girls, not the Cosmos and Cowboys) and being committed to healing myself, learning and mentoring, I can proudly say I found my inner bling again.
Where's the way through?!
I know for a fact that there are times when you will be sitting there wondering if there is a way out of the uncertainty and that you just can't seem to find the way out. Well, I can assure you there is a way. I'm there!
I could not have imagined back in my darkest days (you know the kind) that I would look ahead and see me now with such a wonderful life - I have the man of my dreams by my side, I feel deeply in love, I have happy and healthy children who are now heading to where they want to go, I have a gorgeous home that I've made feel like ME, I'm surrounded by wonderful friends, I feel settled and secure, my health is in great shape for the first time in a long time, I have the world at my doorstep, and I'm giving back to other women - something I truly love to do!
What I've learned is that everyone can feel this way!
So, here's a scary thought...
If you're one of the lucky ones, your circumstances may be that from time to time, you have a glimmer of the feelings you want - but they only seem to slide away as quickly as they momentarily came along. That moment of clarity, that moment where everything seems to flow, where the world even seems more colourful and brighter to look at seems to appear and then just as quickly slide away. I'm not making this up, am I? Your circumstances can't define you!
Well, I said that I would be honest with you, so here's something that will be hard to hear. No one else can make this happen for you! No knight in shining armour is going to turn up, no fairy godmother, no rescue squad. Doesn't that sound like such a daunting task!? Well, it doesn't need to be.
In fact I can guarantee you that in 21 days, I can help turn your life around. I can't say that I took 21 days myself as no one really showed me this way. There are so many self-help, so called, Guru's out there and I've spent a massive fortune looking for the solution over many years. Over time, I now have turned everything that I've learned into a super-charged cocktail that I know works, and works fast.
So, you have two choices from here:
Option A:
Do nothing! If you want to continue with the status quo and keep wishing for something to change on its own, or to find it momentarily for it to keep sliding away as fast as it came.
Option B:
Let me show you the way. Over the years I have supported hundreds of women's lives and it is now your turn! Experience it for yourself. Here's what some of my clients have to say. I'm so happy for the successes they've found once they know the way!
'This course has truly been a transformational journey as it has freed me from the shackles of self-imposed limitations. I have formed amazing friendships with the other women on the course and have seen them blossom from week to week. I feel quietly proud that I have unleashed the real me and made a commitment to a happier and more fulfilling life'. — Helen, Lawyer ACT
'Angie's courses and teachings changed my life. Quite literally. I made huge leaps forward and amazing breakthroughs in all areas of my life. Since doing the courses, I have lost weight, gained health, vitality and peace of mind, made wonderful new friends, improved all the existing relationships in my life, progressed in my career and fallen in love. Angie and her teachings have been instrumental in bringing about these positive changes in my life, and the investment I made has well and truly paid off, so many times over." — Louise, Senior Public Servant
'I did the last Find Your Bling course; it was at a time in my life where I had no real direction. Each day felt like the movie Ground Hog Day. I lacked self esteem, motivation, inspiration and laughter. I wanted more from my life. I found the course to be incredibly insightful. I found other women were stuck in the same spot as me, so it was great to work through issues together and I also found out things about myself that I didn't know. I highly recommend this course if you're looking to move forward, get inspired, laugh a lot and make some wonderful friends. Angela provides a great space to vent, to be yourself and not feel judged and move through blocks and beliefs that are holding you back. It has changed my life! I now have motivation and self belief and know that I am now strong enough to handle anything that comes my way.– Rita, Business Owner

'Finding my Bling was just the tip of the iceberg! What I have found from this experience is that there is love in this world for me and it starts in believing in me. Thank you for making a space for me to step up-. – Jacqui, Engineer
'I can honestly say I "found my Bling"! My Bling is self-discovery of who I am and bringing it out for the world to see. Angie's guidance and support has made it all possible. I move on with the new me.
– Irena, Office Manager
These women are all just like you. They're all busy, with no experience in anything like this. Business women, mothers, wives; all with plenty of demands on their life.
There is nothing too overly 'Woo Woo!' or too fluffy here in this course - it is all pretty grounded and easy to grasp.
I've taken years of hard work, reading and massive expenses to bring you one short easy to follow course that's guaranteed to help you attract new ways of living, thinking and to start feeling great!

Together we will be discovering your Bling!
What you will receive is access to new learnings on Magic Monday - one day each week for 21 weeks. You will receive simple but powerful life lessons delivered to your inbox, my cut-through personal video lessons, and insightful surprises delivered to your home. Each member will gain access to further activities and my FYBling Village community - but first let's walk before we run...
All of my Find Your Bling programs and courses centre around 5 key breakthroughs:

B - Believe Anything Is Possible with the empowering Blue Box! The tools inside the Blue Box give you the awareness you need so you know how to bridge the gap between where you are now, and what you deserve to have in life!
L - Love Heals Everything using the beautiful Loveable Bubble. With the Loveable Bubble visions we create together you'll raise your vibration and you'll come from an open heart space as you connect your Loveable Bubble thoughts to the divine.
I - Intuition Is Your Best Friend! The Invisible Gift will give you the inner knowing of what's possible in any situation you're facing and how to move forward! Your Invisible Gift is meditation and we've created 12 gentle meditations to help you to relax and create a new mindset.
N - Words Of Wisdom in the Nuggets of Gold that allow you to have new ways of thinking and being so you can confidently set your boundaries and Not Negotiables for your relationships.
G - The Gorgeous Girl Undercover from the Glowing Gem tool. That's you, you know - the Girl Undercover. Each day you have the opportunity to 'pay it forward' and make your life, and the lives of others, a little shinier every day!
You'll also get to enjoy FYBling Story Time and other bonus surprises!
When you use the unique FYBling system you'll have an undeniable certainty to move forward in life and be who you want to be. You'll have the confidence to tackle tasks in life that you otherwise thought were overbearing. You'll have fun.
You'll shine with FYBling!
How does the course work?
The Find Your Bling 21 Day Bling Blast is an online course that guides you through your journey of transformation. You'll receive all the tools and skills you need through a mixture of emails, videos, written content and growth sheets.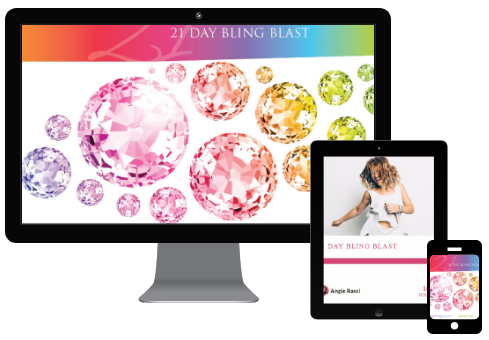 Each week on Magice Monday you'll receive an email with a link to your latest course materials. All you have to do is set aside a little time to watch Angie's fun and insightful video, and if you feel like it, use the amazing resources made available to you. And you can do this all at your own pace - in your slippers. It's your choice! Best of all, because you have access to the course for a lifetime, you can revisit it any time you want.
So let Angie be your guide on this transforming, tool based and skill building course. Find out how you too can use your stories and struggles to Find Your Bling.
What do I get to help me complete the course?

Imagine life's challenges feeling lifted from your shoulders, having the energy to enjoy life and to start to head where you want to go and no longer where the challenges of life seem to be dragging you. Imagine making each day easier...
On the 21 Day Bling Blast online course journey you will:
Start each day (delivered weekly) of the 21 days with insights in your inbox with a link to your daily 21 Day Bling Blast course
Be greeted by Angie with video secrets, stories and learnings to unlock your life, love and lasting relationships
Explore the Blue Box Question so that you can see situations as they are, not worse than they are
Be wrapped in the beautiful Loveable Bubble affirmations to create your Loving Miracles vision by learning the loving language you use towards yourself and towards others
Indulge in your intuition - lots of secrets to connect you with your inner intelligence and uncover your intuitive self
Drift into peace and clarity with 12 beautiful meditations - you'll want to make time and do them. They really work!
Change your perception on life with our Nuggets of Gold
Unleash the Girl Undercover - she is you - the Glowing Gem that makes you shine and step up to be who you were meant to be
Have access to the 21 Day Bling Blast for 12 months so you can revise at leisure
At any time be eligible to join The Bling Village. Our private home of like minded women where you can chat in a safe and nurturing environment.
More importantly, you will discover how to:
Feel a sense of belonging
Bounce back despite the challenges life throws at you
Have the passionate and loving relationship you ache for
Attract more of what you want in your life
Feel re-connected with yourself and those around you
Feel a sense of purpose again
Feel that you are back in control
Find a sense of community and connection again
Do the one small thing each day that is like turning around the Titanic - but only effortlessly
Be pursued and attractive to others for being who you really are
The real value of finding that missing key to your life is surely priceless. I know I have spent tens of thousands of dollars to find it and this condensed version of all that learning is surely doing a disservice to all those self-help communities out there. But it means something to me to make this simple and accessible.
This may seem a lot of value and that can also be overwhelming, but take this at your own pace. If you're committed to a fast-track solution then you have it all, but if you want to go slower that's totally up to you. (Friendly reminder - you have access for a whole 12 months!)

Now that you have a taste of what is available to you I want to ask you one question...
What would it be worth to you to know that you CAN feel all those things and you can make each day easier? RIGHT NOW!
What if I told you that there were hundreds of other women out there that have had fantastic results too and are living with BLING when at the start they felt even worse than you might right now?
What would that all be worth to you?
Women in my program have said that they couldn't put a price on the value of what they've discovered and what it has done for the way they feel. This course has been designed to include some of the best tips and secrets from Angie's series of workshops.
I'm determined to help more women by making the 21 Day Bling Blast available at an affordable price. Now it is available in this online course for only AUD $147. That's it. No large prices slashed to lower prices. I have priced it so that it is affordable and accessible to as many women as possible. The price is AUD $147.
Let my long road be your short road!
What if I told you that I would guarantee that the 21 Day Bling Blast will put you on the short road to finding your BLING with a money back guarantee with no questions asked?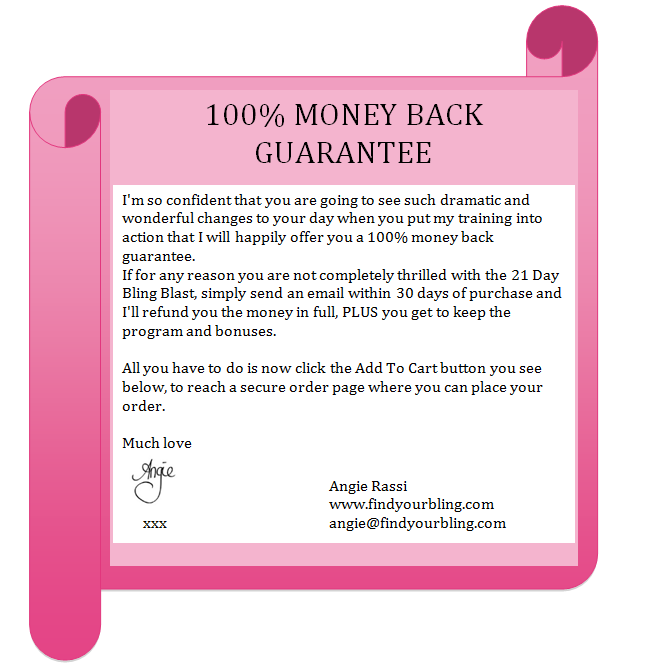 What happens when the course is over?
We are here for you at all stages of your journey of personal growth. So, once you've completed the 21 Day Bling Blast, you still get on-going support, including:
Be the first to hear about course dates and new products designed to help you keep your Bling on!
Continued access to the Find Your Bling Inner Bling Village community where you can ask questions and share experiences with like-minded women
Our monthly Inner Bling newsletter
You will notice the whole world start to change, people will look at you differently, you're going to have more fun and feel more capable to tackle the world and you'll begin to rekindle that missing part of yourself you so yearn for.
So, why wait another minute?
So keep your fluffy slippers on and start your 21 Day Bling Blast today!
It's YOUR time to find YOUR diamond within.